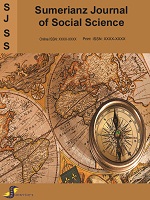 Sumerianz Journal of Social Science

Online ISSN: 2616-8693
Print ISSN: 2617-1716
Archive
Volume 4 Issue 2 (2021)
Self-Compassion, Mindful Eating, Eating Attitudes and Wellbeing
Authors : Ruth Shaw ; Tony Cassidy
Abstract:
Background: Mindful eating behaviour and self-compassion have been individually shown to contribute to healthy eating. Evidence suggests that they may interact and that interaction may increase our understanding of eating behaviour. Aims: The aim of the current study was to explore the relationship between mindful eating, self-compassion, healthy / unhealthy weight, eating disorder and wellbeing in a sample of university students Methods: An online survey using questionnaire data collection in a sample of 349 students (105 males and 244 females). Variables measured included body mass index (BMI), mindful eating, eating attitudes, self-compassion and mental wellbeing. Results: Regression and path analysis show mindful eating and self-compassion to individually and interaction predict eating attitudes and wellbeing. BMI was shown to have a curvilinear relationship with mindful eating, self-compassion and wellbeing with both the underweight and obese reporting lower self-compassion, less mindful eating, lower wellbeing and more likely to exhibit disordered eating. Conclusions: These results indicate that self-compassion and mindful eating behaviour might be usefully targeted in interventions to prevent both obesity and eating disorder.
Cross-National Variation in the Predictors of Wellbeing: Life Domains and Positive Personality Traits
Authors : Jonathan Fonberg ; Andrew P. Smith
Abstract:
Background: Previous research has demonstrated cross-national variation in domain-life satisfaction relationships, with neither health, family, social life, personal safety, financial situation, home life or job satisfaction being universal predictors of wellbeing. The largest limitation of this previous research was a lack of appropriate control variables. Past research has shown that personality traits are powerful predictors of wellbeing, with three particularly important constructs being self-esteem, optimism and self-efficacy. Aims: The present study examined whether after controlling for positive personality traits, domain-life satisfaction relationships would vary cross-nationally and whether a direct cross-national comparison of domain-life satisfaction would reveal significant differences. It was predicted that the cross-national differences would be smaller than those found using more countries with greater cross-cultural differences. Methods: These hypotheses were tested using an online survey with samples from the USA and India, recruited using Mechanical Turk. Results: Both hypotheses were supported in that there was cross-national variation in domain-life satisfaction relationships, even after controlling for positive personality traits. In the Indian sample, health, financial and job satisfaction predicted life satisfaction. Amongst Americans, family, social life, financial situation and home satisfaction predicted it. Direct comparison revealed significant differences in the predictive power of home and job satisfaction, supporting the second hypothesis. As expected, the differences noted in this study were smaller than those revealed through our analysis of the World Values Scale and Eurobarometer. Conclusions: Domain life satisfaction relationships vary cross-nationally, even when personality traits are controlled.
Exploring the Influence of E-Learning Systems on Information Overload and Social Media Addiction During the Covid-19 Pandemic
Authors : Hasah H. AlHeneidi ; Mariam A. AlTerkait ; Andrew P. Smith
Abstract:
Objective: This paper investigates the association of information overload and social media addiction with academic attainment among a sample of college students in Kuwait as they switched from face-to-face to e-learning systems during the COVID-19 pandemic. The closure of universities and colleges made this a mandatory transition. Educators posit information overload (IO) would increase due to the ease of creating, sharing, and duplicating information through social media platforms. Method: This cross-sectional study surveyed a sample of 230 college students who participated by answering the information overload scale and Bergen social media addiction scale. Results: Data were analysed using SPSS; Correlations, t-tests, and linear regression were conducted. The findings showed an increase in information overload during e-Learning. Perceived course stress and social media addiction were significantly associated with levels of information overload. However, academic attainment was not significantly correlated nor predicated by information overload and social media addiction during e-learning. Conclusion: Information overload scores were shown to have increased during e-learning when compared to the results of a previous study. The negative consequences of information overload on students' academic wellbeing were observed. However, more research is required on this population to devise ways to assist students to deal with information overload during the ongoing pandemic.